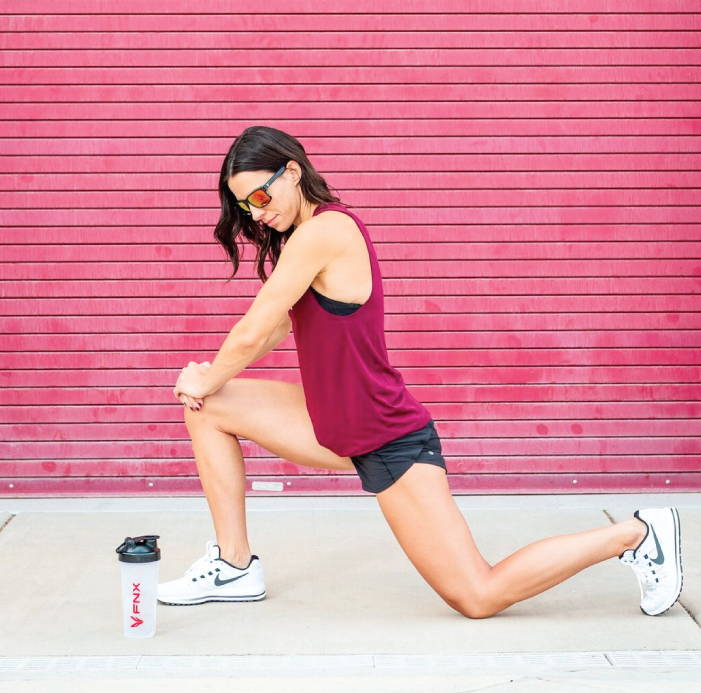 Recover BCAA's
HYDRATION - STRENGTH - RECOVERY - ENDURANCE
If you're active like us, your body craves movement, but it also needs to recover from daily demands. That's why we formulated Recover, to not only help your muscles recover, but also to give you the necessary nutrients to help them recover faster.
Contains electrolytes and minerals to keep you hydrated all day.
Helps you recover faster from workouts to help you get stronger faster.
Maximizes protein synthesis and recovery by getting amino acids directly to the muscles.
The peak performance complex reduces lactic acid build up, improves endurance performance, and increases blood flow and nitric oxide production.
Branch Chain Amino Acids go straight into the blood stream to deliver the necessary nutrients your muscles require to recover and that your body needs to reduce fatigue, muscle soreness and improve the use of fat for energy.
FNX BCAAs help you recover faster from endurance workouts and contain electrolytes which are necessary for many of the bodies functions including muscle contractions and normal muscle functions.
FNX Peak Performance Complex combines Agmatine Sulfate, CarnoSyn Beta Alanine, Betaine Hcl, and beet powder which have been shown to promote peak performance by reducing lattice acid build up, improving endurance, increasing blood flow and nitric oxide synthesis, improved heart health and blood pressure, improved cognitive function and more.
What everyone is saying about Recover BCAA's. Recharge Preworkout Nitric Oxide Booster
ENERGY - STRENGTH - ENDURANCE - CARDIO
FNX Recharge will improve workout duration, time to exhaustion, maximum power output, peak strength, anaerobic capacity, oxygen utilization, oxygen uptake, and exercise capacity.
All Natural Energy blend from green tea, yerba mate, and guarana for sustained focus without the jitters.
The Pump and Shred Complex helps you lift heavier and longer. Take your results to the next level.
Recharge energy blend has been shown to improve performance, especially endurance.
The pump and shred complex improves oxygen utilization, uptake, and exercise capacity.
Recharge's Pump and Shred complex contains clinically dosed quantities of L-Citrulline, Carnosyn™, Beta-Alanine, amino acids and more to maximize your strength and performance in the gym.
The is natural energy blend contains caffeine from only natural sources to ensure high quality long lasting focus without the jitters. Green tea extract, L-dopa, L-theanine, Yerba mate extract and guarana extract.
Adaptogenic Mushroom Blend
The adaptogenic mushroom blend contains Cordyceps, a breakthrough in performance supplementation that enhances the body's ability to produce energy and uptake oxygen.
What everyone is saying about Recharge Preworkout.
"Great pre-workout that gives you enough boost but doesn't leave you feeling too wired/jittery."
"I'm pretty sensitive to pre-workouts, but I had zero issues with this one. The peach tastes amazing and refreshing and helped me push along through my brutal workouts with zero jitters. I workout at night and have not had any issues with falling asleep from taking this at night."
-DAWN
"I love this pre-workout, it keeps my energy up, hydrates me, and helps me push through intense workouts. Blackberry Lemonade is my absolute favorite."
Recharge Preworkout. Everything you need to know.
Why do I need Recharge Preworkout?
FNX Recharge is great for anyone looking to take their workout intensity and performance to the next level. The supplement will allow you to lift more weights at higher reps for longer, which over time will yield strength, endurance, performance, and body composition improvements. The main benefit comes from improved energy utilization and oxygen delivery to the muscles. Recharge has the added benefit of caffeine, which has been shown to improve performance, especially for endurance athletes. Our natural energy blend will have you feeling energized for your whole workout without jitters or a crash, just consistent energy. Farm To Shaker Bottle
ORGANIC - RAW - PROBIOTIC - SUPER GREENS
Our super greens support optimal health. With raw, farm to table ingredients and a precise daily dosage of greens to help keep your immune system healthy with proper nutrition.
Support both your immune & digestive systems with our proprietary probiotic blend.
Our Rebalance Raw Greens Blend is fully processed within 24 hours of harvest and never dried above 106 degrees.
5 unique strains of grass give you all the greens you need, with trace vitamins & minerals.
Grown in the Old Uinta Sea Base (our backyard) our greens are rich in micronutrients and trace minerals
Super greens. Super small scoop
Every daily serving of our organic Super Greens contains the precise amount of greens your body needs to thrive. Forget eating everything green you can get your hands on. Our greens simplify the vegetable consumption game.
Raw & organic 5 grass blend
Combining Barley, Alfalfa, Kamut, Oat & Wheat Grass, our organic 5 grass blend contains nutrients & vitamins your body craves. Dried under 106 degrees to keep the chloroplasts intact to deliver very potent chlorophyl that is both raw & organic.
Probiotic blend for digestive health
Our proprietary probiotic blend is a staple in many of our products. Not only does it promote immune and digestive health, our Super Greens also taste better than any greens product on the market.
What everyone is saying about Rebalance Greens.
Rebalance Super Greens. Everything you need to know.
Greens are an essential part of nutrition and a balanced diet. Our greens simplify the consumption of mass quantities of greens. Let's face it - we all know its not the easiest thing on earth to get a steady flow of vegitables in our diet. With Rebalance Super Greens you can not only get all the greens you need on a daily basis - but you'll also get to enjoy the unbelievable taste.
Where are your greens made?
Grown in the Old Uinta Sea Base (our backyard) our greens are rich in micronutrients and trace minerals. Our greens are fully processed within 24 hours and never dried above 106 degrees, helping our greens maintain their delicate chloroplasts.
"If you've tried any other greens product and compared it to Rebalance greens its almost laughable how good these are. Wherever you're at in your fitness journey, greens are essential to total health."
"The right nutrition right off the bat to give me that edge to start training well and have the nutrients I need to support that"