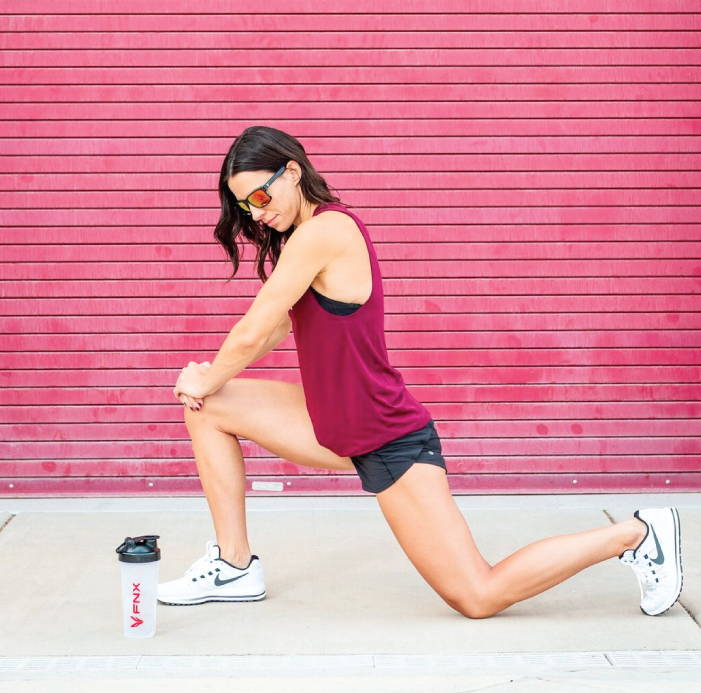 Recover BCAA's
HYDRATION - STRENGTH - RECOVERY - ENDURANCE
If you're active like us, your body craves movement, but it also needs to recover from daily demands. That's why we formulated Recover, to not only help your muscles recover, but also to give you the necessary nutrients to help them recover faster.
Contains electrolytes and minerals to keep you hydrated all day.
Helps you recover faster from workouts to help you get stronger faster.
Maximizes protein synthesis and recovery by getting amino acids directly to the muscles.
The peak performance complex reduces lactic acid build up, improves endurance performance, and increases blood flow and nitric oxide production.
Branch Chain Amino Acids go straight into the blood stream to deliver the necessary nutrients your muscles require to recover and that your body needs to reduce fatigue, muscle soreness and improve the use of fat for energy.
FNX BCAAs help you recover faster from endurance workouts and contain electrolytes which are necessary for many of the bodies functions including muscle contractions and normal muscle functions.
FNX Peak Performance Complex combines Agmatine Sulfate, CarnoSyn Beta Alanine, Betaine Hcl, and beet powder which have been shown to promote peak performance by reducing lattice acid build up, improving endurance, increasing blood flow and nitric oxide synthesis, improved heart health and blood pressure, improved cognitive function and more.
What everyone is saying about Recover BCAA's. Recharge Preworkout Nitric Oxide Booster
ENERGY - STRENGTH - ENDURANCE - CARDIO
FNX Recharge will improve workout duration, time to exhaustion, maximum power output, peak strength, anaerobic capacity, oxygen utilization, oxygen uptake, and exercise capacity.
All Natural Energy blend from green tea, yerba mate, and guarana for sustained focus without the jitters.
The Pump and Shred Complex helps you lift heavier and longer. Take your results to the next level.
Recharge energy blend has been shown to improve performance, especially endurance.
The pump and shred complex improves oxygen utilization, uptake, and exercise capacity.
Recharge's Pump and Shred complex contains clinically dosed quantities of L-Citrulline, Carnosyn™, Beta-Alanine, amino acids and more to maximize your strength and performance in the gym.
The is natural energy blend contains caffeine from only natural sources to ensure high quality long lasting focus without the jitters. Green tea extract, L-dopa, L-theanine, Yerba mate extract and guarana extract.
Adaptogenic Mushroom Blend
The adaptogenic mushroom blend contains Cordyceps, a breakthrough in performance supplementation that enhances the body's ability to produce energy and uptake oxygen.
What everyone is saying about Recharge Preworkout.
"Great pre-workout that gives you enough boost but doesn't leave you feeling too wired/jittery."
"I'm pretty sensitive to pre-workouts, but I had zero issues with this one. The peach tastes amazing and refreshing and helped me push along through my brutal workouts with zero jitters. I workout at night and have not had any issues with falling asleep from taking this at night."
-DAWN
"I love this pre-workout, it keeps my energy up, hydrates me, and helps me push through intense workouts. Blackberry Lemonade is my absolute favorite."
Recharge Preworkout. Everything you need to know.
Why do I need Recharge Preworkout?
FNX Recharge is great for anyone looking to take their workout intensity and performance to the next level. The supplement will allow you to lift more weights at higher reps for longer, which over time will yield strength, endurance, performance, and body composition improvements. The main benefit comes from improved energy utilization and oxygen delivery to the muscles. Recharge has the added benefit of caffeine, which has been shown to improve performance, especially for endurance athletes. Our natural energy blend will have you feeling energized for your whole workout without jitters or a crash, just consistent energy. Reinforce Stimulant Free Preworkout
HYDRATION - STRENGTH - ENDURANCE - CARDIO
Based on Nobel Prize Winning findings of Dr. Louis Ignarro. Features the most beneficial blend of L-Arginine and L-Citruline
Essential minerals required for proper hydration and performance.
Increase peak strength from blood flow and nutrient delivery.
Increased oxygen to muscles and nutrient delivery.
Perfect for endurance and cardio competitors.
Every serving of our Reinforce contains the precise amount of vitamains, minerals and amino acids your body needs to perform.
This formula improves and increases blood flow, oxygen and nutrient delivery to the muscles. You'll feel better, perform better, and recovery faster.
Our proprietary Nobel Prize winning increases your bodies production of nitric oxide. Increased nitric oxide improves circulation and enhances endurance and cardiovascular performance.
What everyone is saying about Reinforce Stimulant Free Preworkout.
Reinforce Stimulant Free Preworkout. Everything you need to know.
Why do I need Reinforce Stimulant Free Preworkout?
For anyone who wants all of the benefits of preworkout -( improved circulation, improved pumps, increased peak strength and power output) but without the caffeine. .
"It tastes great, it helps me start my day, and it has a nitric oxide booster which helps me prep for my workout ahead."
"I'll supplement Reinforce when I need that extra kick without the stimulants. It tastes great and gets me ready to perform"
@COLESAGER
"Reinforce is perfect for those that don't require stimulants, for those that workout in the evening or for anyone trying to up their performance"