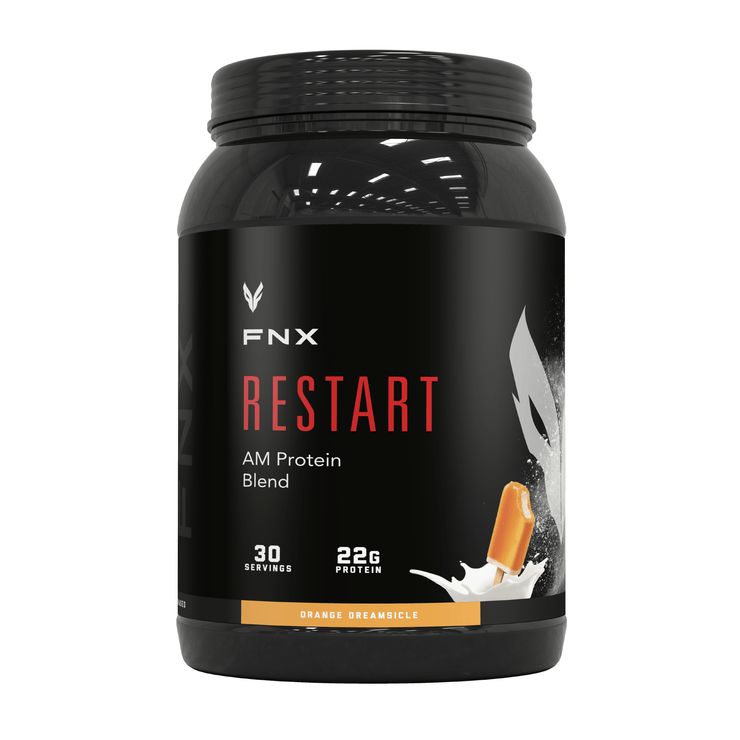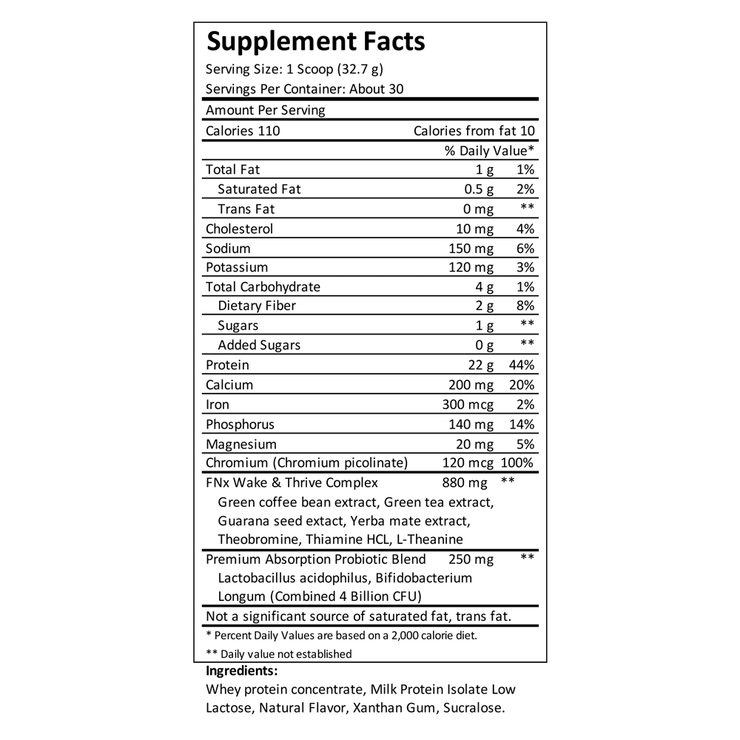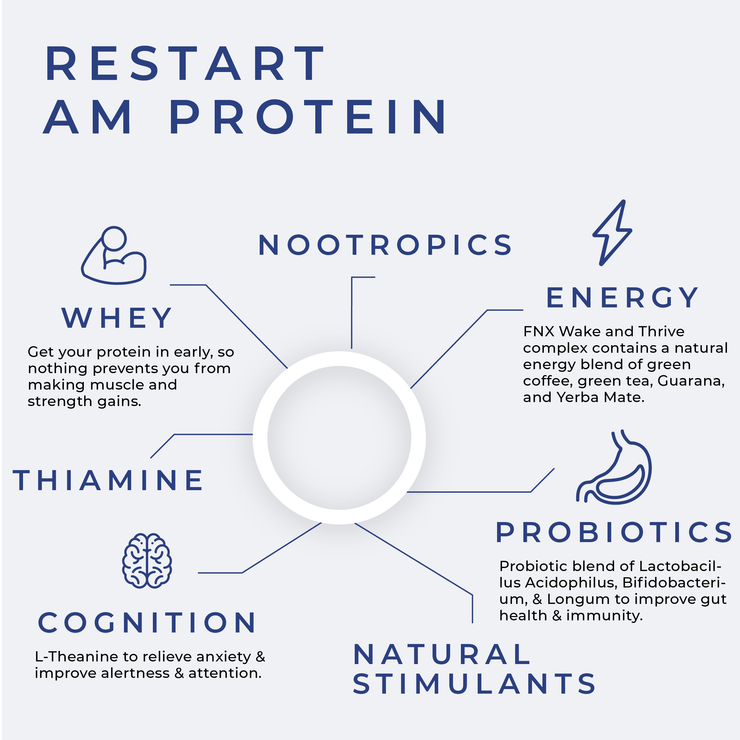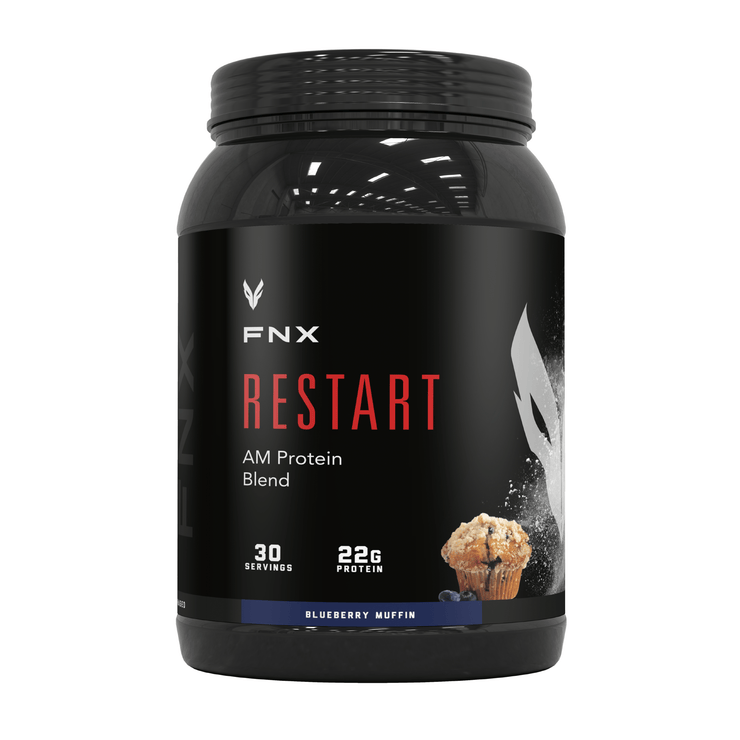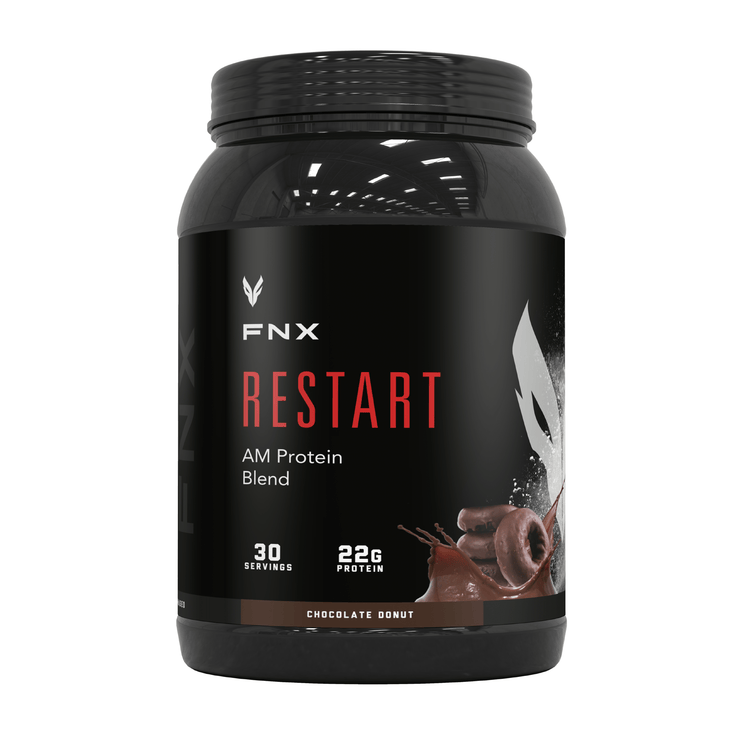 Restart AM Protein
ENERGY - STRENGTH - RECOVERY - COGNITION
Use Restart for a natural energy boost of sustainable energy. 23 grams of protein plus caffeine and nootropics make it the perfect morning or mid afternoon mental boost.
FNX Wake and Thrive complex contains a natural energy blend of green coffee, green tea, Guarana, and Yerba Mate.
Get your protein in early, so nothing prevents you from making muscle and strength gains.
Premium Absorption Probiotic blend ensures you're absorbing nutrients necessary for optimized recovery.
Wake and Thrive complex contains powerful Nootropics to keep your mind sharp & focused throughout the day.
Restart contains cold-processed whey and milk proteins, which provides the highest biological value protein available from any single protein source.
The Wake and Thrive Complex contains; Theobromine shown to improved performance on mental tasks and reduced mental fatigue, Thiamine HCL which improves brain function and brain health, and L-Theanine which has been shown to boost memory, mental function, mood and more.
The is natural energy blend contains caffeine from only natural sources to ensure high quality long lasting focus without the jitters. Green tea extract, L-dopa, L-theanine, Yerba mate extract and guarana extract.
Restart AM Protein Blend. Everything you need to know.
Why do I need Restart AM Protein Blend?
Protein is an essential part of everyone's diet, especially anyone pursuing sports and fitness. The AM Protein has the added benefit of providing energy, focus, and probiotics. This combination is perfect for many goals. Protein for recovery. Focus to tackle your day. Caffiene for energy. Can be used as meal replacement for dieters. Energy pre-workout or more energy post-workout. Fight the midday lull. So many options!
"One of the best protein products I've had. Easiest to mix no clumps. Very easy on the system first thing in the morning with a little kick. Great orange flavor."
"I workout early in the morning and started taking the Restart AM Protein Blend and I love it! I mix the Mocha flavor with soy milk for a little extra protein and drink it while I workout. I've added size and noticed more definition and vascularity. It also has a little kick that helps get you through the toughest workouts. I just reordered and also order the Sleep Aid, which I can't wait to try out! I'm a fan!!."
"I am literally addicted to the orange flavor! Training at 5 am is no easy task, but this is the PERFECT preworkout fuel. No bloating like other proteins and I've legitimately noticed a difference in focus and performance. Thanks for this awesome product, you guys rock!" GET 10% OFF YOUR FIRST ORDER
Enter below to be the first to know about new products and receive 10% off