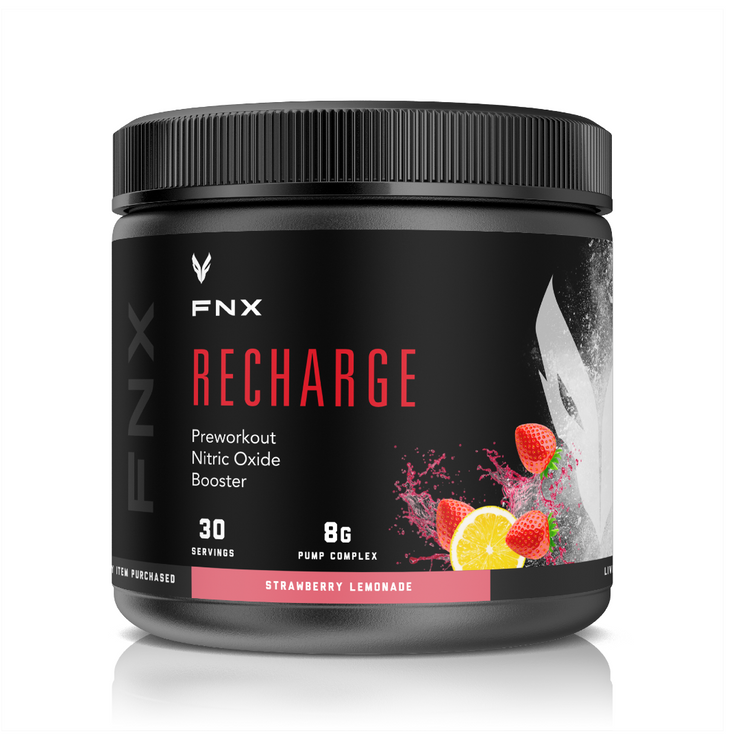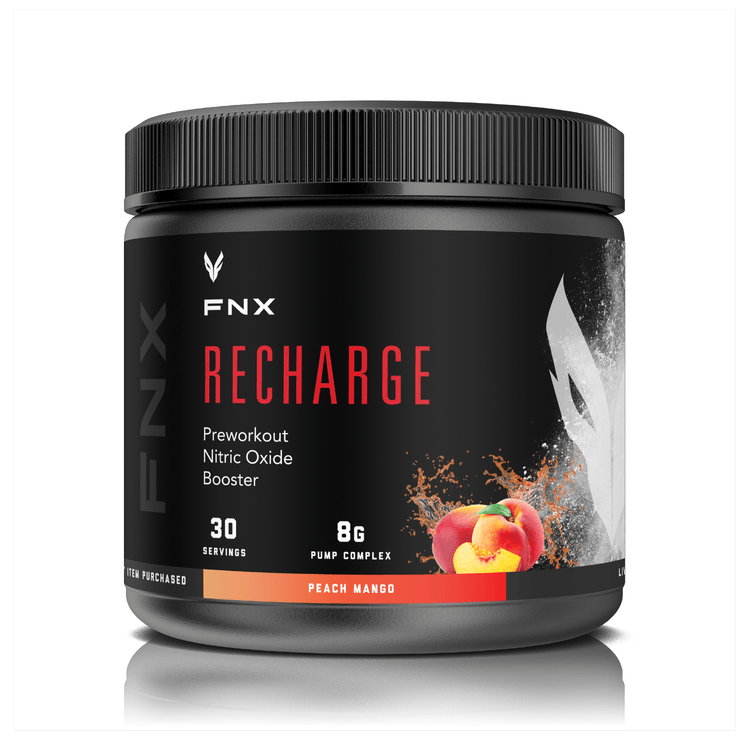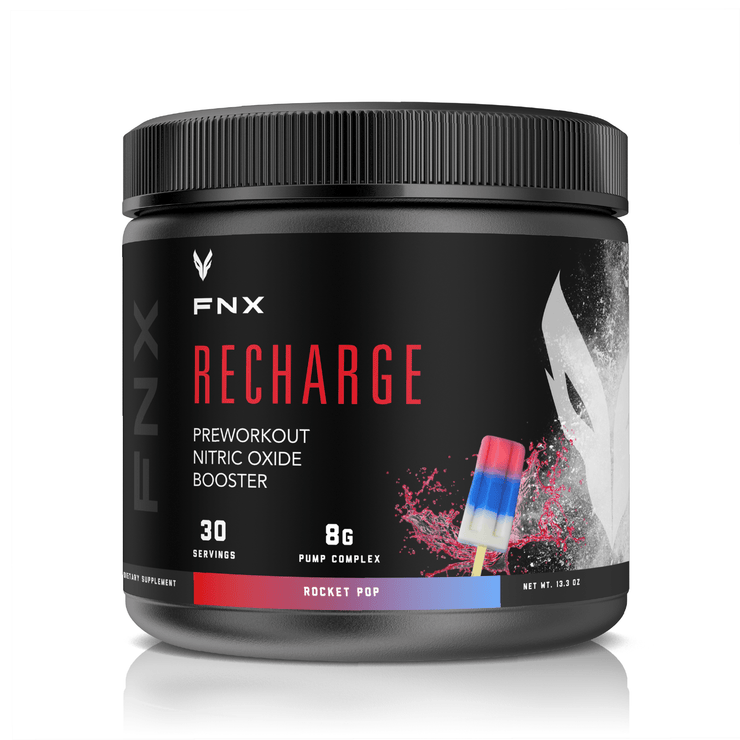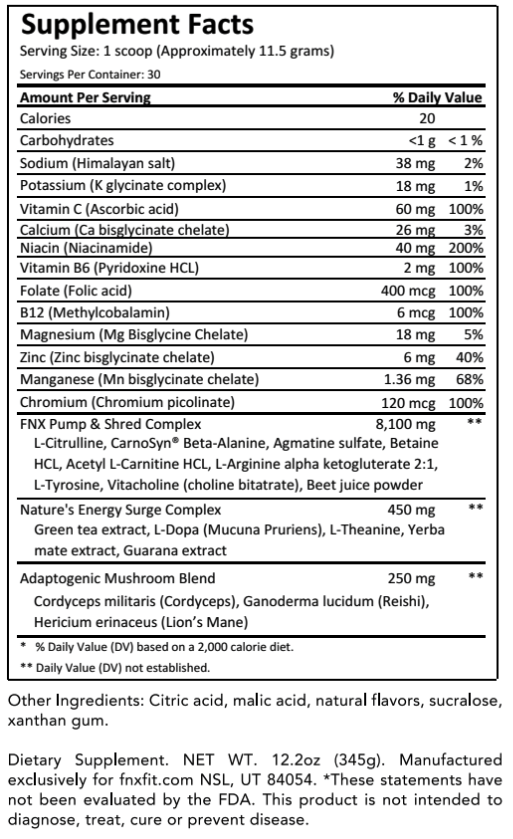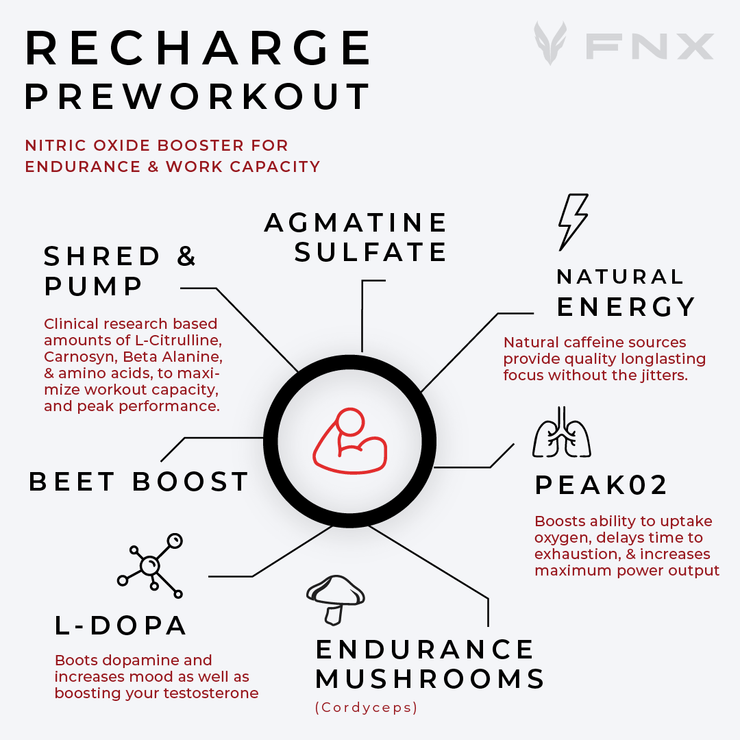 Recharge Preworkout Nitric Oxide Booster
ENERGY - STRENGTH - ENDURANCE - CARDIO
FNX Recharge will improve workout duration, time to exhaustion, maximum power output, peak strength, anaerobic capacity, oxygen utilization, oxygen uptake, and exercise capacity.
All Natural Energy blend from green tea, yerba mate, and guarana for sustained focus without the jitters.
The Pump and Shred Complex helps you lift heavier and longer. Take your results to the next level.
Recharge energy blend has been shown to improve performance, especially endurance.
The pump and shred complex improves oxygen utilization, uptake, and exercise capacity.
Recharge's Pump and Shred complex contains clinically dosed quantities of L-Citrulline, Carnosyn™, Beta-Alanine, amino acids and more to maximize your strength and performance in the gym.
The is natural energy blend contains caffeine from only natural sources to ensure high quality long lasting focus without the jitters. Green tea extract, L-dopa, L-theanine, Yerba mate extract and guarana extract.
Adaptogenic Mushroom Blend
The adaptogenic mushroom blend contains Cordyceps, a breakthrough in performance supplementation that enhances the body's ability to produce energy and uptake oxygen.
What everyone is saying about Recharge Preworkout.
"Great pre-workout that gives you enough boost but doesn't leave you feeling too wired/jittery."
"I'm pretty sensitive to pre-workouts, but I had zero issues with this one. The peach tastes amazing and refreshing and helped me push along through my brutal workouts with zero jitters. I workout at night and have not had any issues with falling asleep from taking this at night."
-DAWN
"I love this pre-workout, it keeps my energy up, hydrates me, and helps me push through intense workouts. Blackberry Lemonade is my absolute favorite."
Recharge Preworkout. Everything you need to know.
Why do I need Recharge Preworkout?
FNX Recharge is great for anyone looking to take their workout intensity and performance to the next level. The supplement will allow you to lift more weights at higher reps for longer, which over time will yield strength, endurance, performance, and body composition improvements. The main benefit comes from improved energy utilization and oxygen delivery to the muscles. Recharge has the added benefit of caffeine, which has been shown to improve performance, especially for endurance athletes. Our natural energy blend will have you feeling energized for your whole workout without jitters or a crash, just consistent energy. GET 10% OFF YOUR FIRST ORDER
Enter below to be the first to know about new products and receive 10% off